It feels great to see recognition for the hard work everyone in the Logic Square team has put through the year!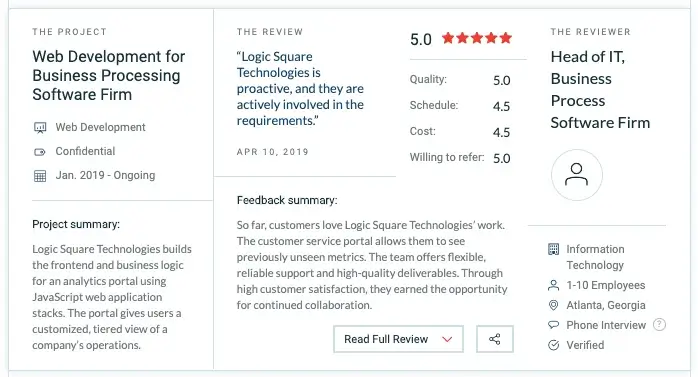 Using the information that they collect in these review calls, Clutch is able to rank companies and identify top performing agencies. Out of the thousands of other service providers included on the platform, it's a huge honor to be singled out and selected for this award.
Now that we've achieved this—what's next?
We're planning to expand our presence in the USA & UK in 2020. We've been working on new innovative products like Huddlespot (co-working space management), RepuStream (reputation management), True Fanz (influencer backed social media platform), Squiggle (restaurant feedback and queue management), Recruitech (smart recruitment management solutions for agencies).
Recent Recognitions
Logic Square Technologies was recently recognized as "Finest Mobile App Developers of November 2022" 
This is just one of the recent recognitions that logic Square Technologies has received. We are honored to receive this recognition. We are devoted to our clients and can't wait to continue providing our clients with the highest quality service possible. Read more about our services on our TopDevelopers.co profile.
So, we're thrilled to see what the next year has in store for our team!
To get in on the madness (or magic), contact us through our website.
Author