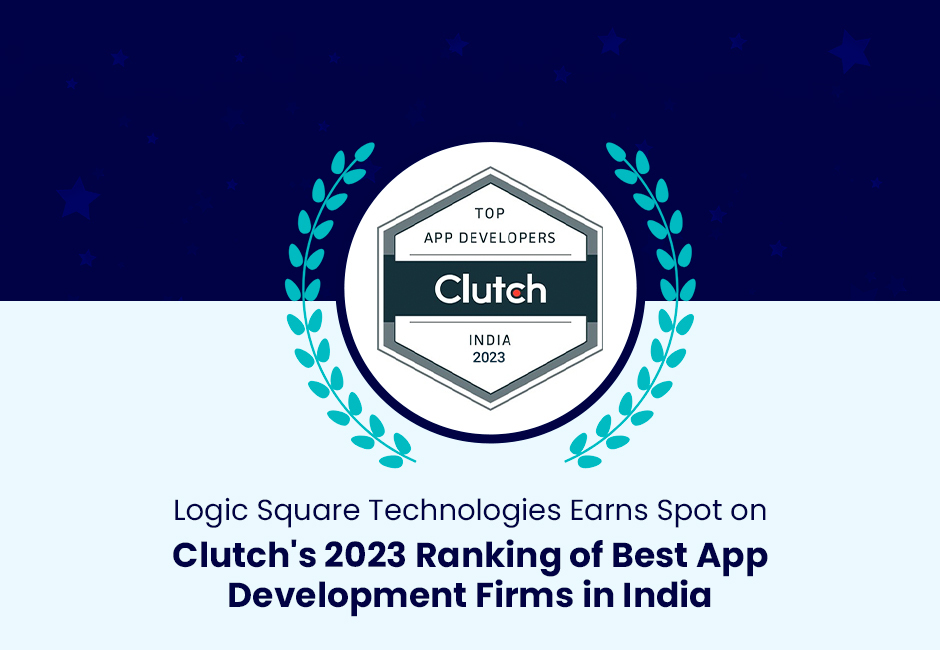 We are excited to announce that Logic Square Technologies has been named one of the top app development companies in India by Clutch for 2023. We take pride in ourselves as a leading technology solutions provider in building innovative mobile and web applications that drive business growth and enhance user experience. Our team of experienced developers, designers, and project managers is proficient in delivering customized solutions that meet the unique needs of our clients. This recognition by Clutch is a testament to our commitment to excellence and our ability to consistently deliver quality work that exceeds our client's expectations. 
DesignRush featured Logic Square among the top 20 US Mobile App developers earlier this year. Then again, Silicon India ranked us in the top 10 most promising MVP developers In 2023. And now, Logic Square Technologies has earned the esteemed recognition of being among India's top app development firms, bestowed upon them by Clutch, a highly respected ranking firm, thus cementing our reputation for trustworthiness and excellence in the industry. "It is a tremendous honour that validates our work ethics. Let me take a moment to thank our esteemed clients for their unparalleled faith in our abilities and our team to whom this recognition is due. I want to keep this momentum going. This recognition will boost our perseverance to solve more real-time challenges. Together, we will continue to push the boundaries of what's possible and create a truly unfathomable future," said Vineet Harbhajanka, Founder of Logic Square Technologies.
How Does Clutch determine the Best App Development Companies in India?
Clutch is a highly respected online platform that helps businesses find the best B2B service providers in the IT industry, including app development. Their rigorous research methodology involves interviewing former clients, conducting industry research, and analyzing each company's social media presence, awards, and case studies. As a result, being featured on their list of the leading app developers in India for 2023 is a significant accomplishment, reflecting our commitment to delivering high-quality solutions to our clients. This recognition is of great importance as it highlights the reputation and credibility of Clutch as a reliable and impartial evaluator of B2B service providers.
We are honoured to have been selected for this prestigious list, as it demonstrates our expertise in app development and recognizes the hard work of our talented team. Clutch's evaluation criteria, which include the types of services offered, the expertise of the development team, the quality of work produced, and the company's overall reputation, provide valuable insights into our strengths and areas of improvement. Our selection also validates our team's dedication to delivering innovative solutions to meet our client's unique needs. This recognition will motivate us to continue to provide our clients with the best possible solutions while maintaining the highest standards of professionalism and excellence.
Navigating India's Booming App Development Market: How We Fit In?
The Indian app development market is rapidly growing, making it an increasingly competitive space for businesses seeking to develop mobile applications. According to a report by Statista, the Indian mobile app market is expected to grow at a compound annual growth rate (CAGR) of 18.8% from 2020 to 2025. It also predicts India will be the second-largest app market globally by 2024. These statistics highlight the immense potential of the Indian app development market and the need for businesses to choose the right app development company that can help them leverage this potential. Our recent recognition by Clutch underscores our commitment to delivering exceptional services and highlights our ability to compete in this dynamic and ever-growing market. As a leading app development firm in India, Logic Square Technologies is well-positioned to provide businesses with innovative and customized solutions to meet their unique needs and goals.
The Recognition Of Our Competitive Edge
We are ecstatic to receive recognition from Clutch for our unwavering dedication to delivering exceptional digital solutions to our clients. It is an honour to get listed among India's top app development companies, and we owe it all to our team's technical prowess and sharp talent pool. We take great pride in our ability to deliver frugal innovations while working collaboratively with our clients to achieve their business goals.
Our commitment to incorporating client feedback into our development process makes us diligent. We are thrilled that Clutch considers this feedback when assessing our work's quality. We firmly believe that our client's success is our success, and we go above and beyond to fulfil their expectations.
Clutch Recognized Us- But Why?
We are glad that Clutch has recognized us as the top mobile developer in India. But this achievement wasn't a walk in the park. It took us a decade of unwavering effort and dedication to reach this pinnacle of success. Our constant focus on delivering top-notch quality work has earned us a stellar reputation in the industry. And now, our clients can also say that we have established ourselves among the leaders in mobile app development in India. We have identified several factors from our client's feedback attributed to our position as a top mobile app developer in India. Let's take a closer look at them.
Our team's innovative and forward-thinking approach has won us several industry awards. Our expertise and know-how in mobile app development have been recognized from time to time, cementing our position as a top mobile app developer in India. But that's not all. Our clients recognize our ability to fulfil their requirements. We develop applications that align with their goals and deliver them on time and within budget. And it is this unwavering commitment to our clients has earned us their positive reviews and contributed to our recognition by Clutch. It is a testament to our commitment to delivering high-end solutions for our clients. 
Our clients also played a crucial role in helping us earn this accolade, as they spoke highly about our on-time delivery, attention to detail, and customer-focused approach. We're proud of the unique and game-changing ideas we've implemented in our projects, such as using cutting-edge technology, adopting a design thinking approach, and leveraging our sharp talent pool skills to create custom solutions. Our clients also spoke about these factors, and we think it's critical for us and our future clients to know the reasons and factors behind this achievement. 
So, let's gloss over the innovative factors, case-specific expertise, and game-changing ideas. 
Revolutionizing the development process by delivering quality solutions within budget through cost-effective frugal innovations.

Facilitating expert IT guidance and consultation to Clients by elevating projects with the latest technologies and trends.

Ensuring greater project clarity through communicating phase-wise milestones and tracking information to clients. 

Elevating user satisfaction through prioritizing seamless user experience that aligns with project requirements.

Integrating technology with your business goals through out-of-the-box idea generation.

Prioritizing project success by providing honest feedback and valuable insights.

Optimizing final products through implementing strategies based on in-depth market and competitor research.

Delivering on-budget quality solutions and going beyond by incorporating additional features without increasing costs on time. 

Round-the-clock accessibility and dedication to client satisfaction.

Delivering unmatched flexibility to stay ahead of others. 
From Their Mouths to Your Screen: Recent Testimonials on Our Customer-Centric Services
At Logic Square Technologies, our clients are the centre of everything we do. We constantly strive to provide exceptional services and fulfil their expectations, so we are thrilled to share recent feedback from some of our satisfied customers. We want to take this opportunity to express our gratitude to our clients for their valuable feedback and recognition, without which our recent inclusion in Clutch's list of top service providers would not have been possible. In addition, we also like to thank our clients for trusting our ability to provide them with reliable and high-quality services that align with their specific needs. 
And now, without further ado, let's hear what our satisfied clients have to say about working with us.
Finn Hodgins, Founder, Grouped
"Logic Square Technologies just cares about our business and wants us to do well. They're an excellent partner" – Read More.
Tim Branyan, Founder, TrueFanz
"Logic Square Technologies cares about their work and wants to do it well" – Read More.
Levi Fistrovich, Founder & CEO, Vaico+
"They gave us ideas to take the product to its maximum potential. We credit them for how we implemented everything" – Read More.
Final Thoughts:
Being recognized by Clutch, a highly reputable market research firm, is the shining feather in our cap, and we couldn't be more proud of this accomplishment. We are immensely grateful for the support and positive feedback that we have received from our clients, which has undoubtedly played a significant role in helping us achieve this distinction. Moving forward, we will continue to work hard to maintain our position as a top-rated app development firm in India, always prioritizing the needs of our clients and striving to exceed their expectations. We are excited to see what the future holds for our team and are committed to delivering exceptional results for our clients every step of the way. 
Ready to take your app development project to the next level? Contact us today to schedule a consultation with our expert team!
Author