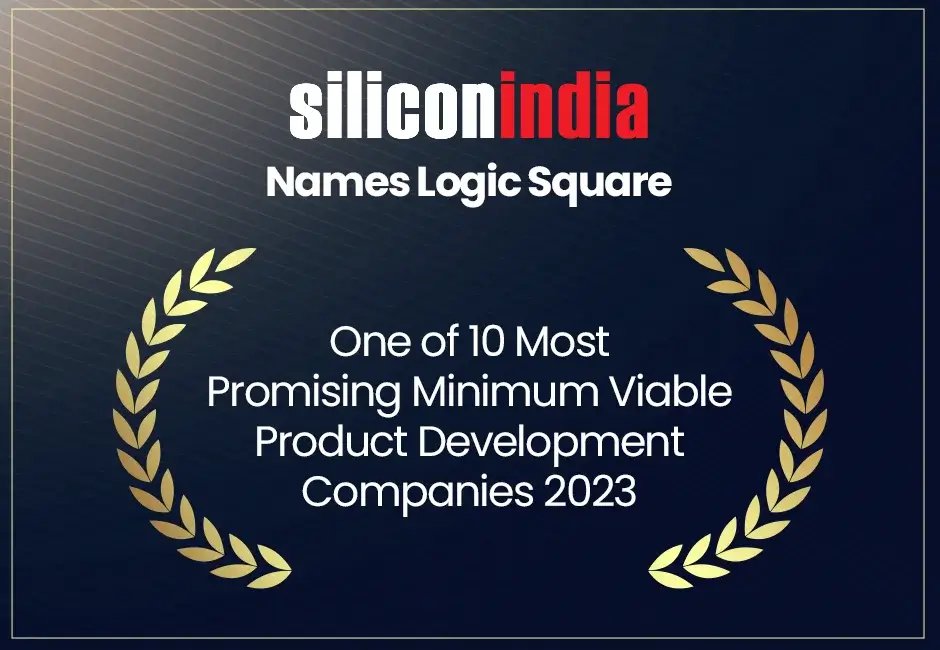 Logic Square Technologies: A Leader in MVP Development
Amidst all the buzz, Logic Square Technologies featured among the top 10 most promising MVP development companies, recognized by Silicon India in 2023. It includes organizations that offer outcome-oriented scientific & technology knowledge and their abilities to utilize the best practices in building minimum viable products.
It is a well-deserved appreciation for our hard work and dedication to delivering high-end products. The Silicon team evaluates several features before publishing their results, including frugal engineering, resource optimization, task efficiency, transparency, real-time customer engagement, conceptualization, and convergence.
About SiliconIndia
SiliconIndia magazine is a well-respected technology-focused magazine that provides insightful and informative articles on various topics, including emerging technologies, startups, and industry trends. Since 1997, the magazine has become a leading source of news and analysis for tech professionals, entrepreneurs, and investors in India and the world. It has a robust online presence that offers business case studies, news, analysis, and opinion pieces. With its focus on technology and innovation, SiliconIndia is an essential resource for anyone looking to stay informed about the latest trends and developments in the tech industry.
Why Us?
This appreciation goes beyond the realm of building efficient MVPs for clients. It is an honest depiction of our relentless pursuit of offering innovative product planning and developing a customized MVP strategy for our clients. We are thrilled to be among such exemplary organizations that take design, testing, 360-degree customer support, cost optimization, and optimum quality control as seriously as us. 
The SiliconIndia team acknowledged our innovative and result-driven approach to solving critical challenges to feature us in the list of the most promising MVP development companies. Our frugal innovations enable us to consistently deliver outstanding results while staying within budget, a quality that SiliconIndia's team found impressive. Our ability to prioritize post-deployment maintenance & support, communication skills, client relationship, and agility in adopting new technologies are also noteworthy.
SiliconIndia also considered our widespread initiatives and ethical practices to support small and medium businesses and startups in leveraging technologies to solve complex challenges. We are overjoyed by the recognition of our effort to encourage small businesses to participate in ongoing tech innovations. 
We are more than just a tech company! 
It's our powerhouse of innovation and expertise that helped us earn a spot as one of the top 10 most promising MVP development companies by SiliconIndia. With the laser focus detailing on product planning, web and mobile app solutions, and resource optimization, Logic Square is a force to be reckoned with in the tech industry. But that's not all. What truly sets Logic Square apart is its commitment to sharing knowledge and experiences, connecting with entrepreneurs, and turning their ideas into reality. We provide unparalleled customer service and stays ahead of the curve by training our workforce on the latest trends and technologies.
Leadership Insights: Thoughts From Our Key Leader:
At Logic Square Technologies, we are proud of ourselves for delivering efficient and reliable services to our clients. We have an unwavering sense of ownership, reflected in every project we undertake. As stated by our CEO and MD Founder, Vineet, our dedicated services have helped us build a loyal client base. "We are thrilled to have been recognized by SiliconIndia as one of the 10 most promising MVP development companies in 2023 and grateful to our investors, employees, and clients who have helped us achieve this feat." He further adds, "We are excited to continue providing exceptional services that exceed our client's expectations, and look forward to building long-lasting relationships with our clients as we help them achieve their business goals through innovative solutions."
From Recognition to Action: Leveraging Our Future Steps
As Logic Square Technologies continues to grow and expand, it remains committed to delivering innovative and impactful solutions to its clients while staying at the forefront of the ever-evolving technology landscape. It has established long-term partnerships with prominent clients in the past three years, a shred of clear evidence of its exceptional services and dedication to its client's success. 
In the coming years, Logic Square Technologies plans to expand its market reach by entering regions such as the UK, Australia, and the Middle East. With a powerful presence in Indiana and California, we are committed to global growth and development.
In addition to expanding its market reach, Logic Square Technologies is continuously broadening its talent pool to stay at the forefront of technology. It has recently emphasized more contemporary topics like Golang, Rust, and Blockchain while also focusing on developing a deeper understanding of AI and data analytics. To ensure exceptional customer service, We are investing in our employees and expanding our office space.
Closing Remarks:
Being recognized as one of the Top 10 MVP Development Companies by SiliconIndia is a formidable achievement for Logic Square Technologies. Our pride is our hard work and dedication to keep working towards excellence in our field. We look forward to serving our clients with even greater passion and providing them with innovative solutions to help them achieve their business goals.
If you're looking for a reliable and innovative MVP development company to help bring your product idea to life, look no further than Logic Square Technologies. Reach out to us today and learn more about how we can help you create a successful MVP that will set you on the path to business success.
Author