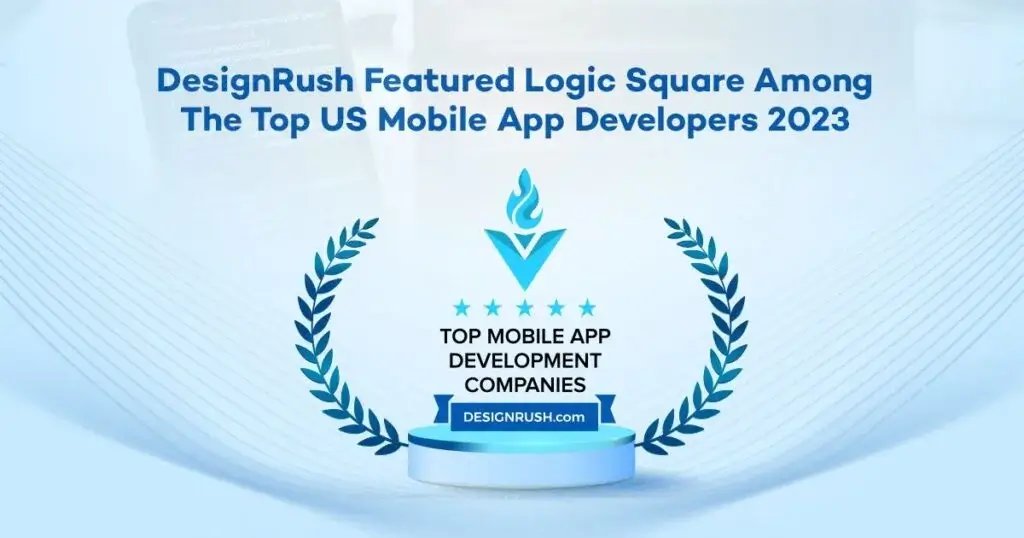 We are thrilled to announce that our organization has been named among the best US mobile app developers by DesignRush. It is a testament to Logic Square's high-end services in the mobile app development segment in the North American region. Our organization marks its presence among all the premium mobile app developers worldwide, not just in the USA.
In today's competitive market, it can be difficult for customers to discern the right mobile app developer that aligns with their needs and goals. With an overwhelming number of options available, finding an app development company with a proven track record of success and innovation is crucial. We understand these challenges and strive to simplify the process for our clients. Our recent recognition by DesignRush shows our dedication to delivering outstanding mobile app development solutions.
DesignRush is a highly trusted B2B market research platform that helps businesses find the best service providers. Being featured on their list is a true accomplishment, proving our team's unwavering adherence to excellence and innovation. This recognition is not limited to a validation of our skills and abilities but to a reflection of our commitment to delivering the highest-quality mobile app solutions to our clients. We are delighted to share this news with the world and look forward to continuing to provide outstanding mobile app development services to businesses everywhere.
The DesignRush evaluates companies based on various factors, including the types of services offered, the quality of services provided, and client feedback and satisfaction. It further evaluates the company's size, years of experience, and portfolio of previous work to determine its ability to handle complex mobile app development projects. The team also considers the range of service offerings of the premium app development companies to evaluate functional components like design, development, testing, and maintenance to ensure that they can provide comprehensive solutions to clients. 
DesignRush has also considered our client's feedback to determine the quality of our work to meet their expectations. Our technical expertise, industry awards & recognition, and acquaintance with the latest technologies and tools also played a critical role in securing our spot in the top US mobile app developers.  
From The Desk Of Our Top Brass:
"We are thrilled and honored to be recognized as one of the top  mobile app developers in the US by DesignRush", said Vineet Harbhajanka, the founder of Logic Square Technologies. He added, "Our commitment to delivering exceptional mobile experiences to our clients has been the driving force behind this recognition. We will continue to strive for excellence and push the boundaries of what is possible in mobile app development."
Now That We Have Seized The Moment, What Is Our Next Move?
Now that we've been recognized as one of the top mobile app developers in the US, our focus is on continued growth and innovation. We will not rest on our achievement but use this recognition as motivation to raise the bar even higher. We aim to expand our services, deepen our expertise, and solidify our position as a leader in the IT industry. We want to continue delivering impactful, user-friendly and cutting-edge mobile solutions to our clients and stay ahead of the curve in this rapidly evolving field.
Final Words:
This recognition as one of the top mobile app developers in the US by DesignRush is a significant milestone for Logic Square Technologies. It solidifies our position as a leader in this industry and underscores our commitment to delivering outstanding mobile experiences to our clients. 
We are grateful for the support of our investors, employees, and clients, who helped us achieve this recognition. We would also like to thank DesignRush for considering us among the top mobile app developers. We remain committed to delivering outstanding mobile experiences and innovative solutions to our clients, and this recognition solidifies our position as a leader in the field.
If you are interested in exploring how we can help bring your vision to life with our mobile app development services, we encourage you to reach out to us. We will be happy to discuss your needs and provide you with the exceptional service that has earned us this recognition.
Author