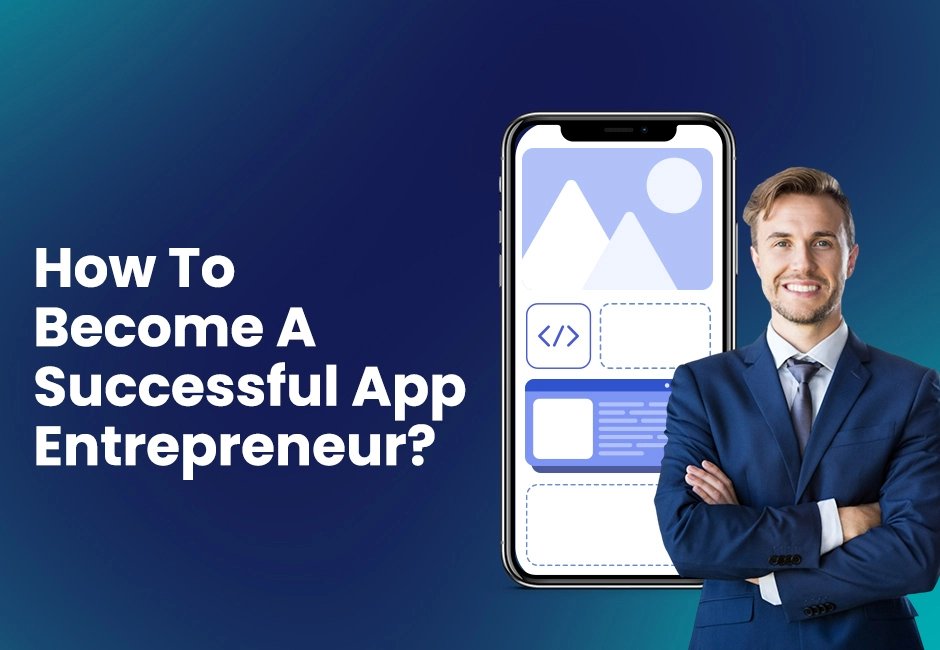 In today's digital age, the chance to build a successful app-based business has never been more attainable. The opportunities in the app industry are endless, from gaming and mobile apps to web apps and productivity tools. You can take these opportunities to increase your chances of success, including creating a compelling app concept, developing a solid business plan, and marketing your app effectively to your target audience. However, the questions remain about how to become a successful app entrepreneur. In this blog, we try to provide the answer to this question.
App entrepreneurs have the power and leverage to disrupt traditional industries. Are you ready to turn your app idea into a thriving venture? Look no further! Our blog will provide a comprehensive roadmap to becoming a successful app entrepreneur. Don't miss out on this opportunity to join the ranks of the newest and hottest entrepreneurs in the digital age. Join us on this journey and be on your way to creating the next big thing in the app industry.
Why Opt For App Entrepreneurship?
A couple of years ago, a study conducted by App Annie in 2016 revealed that the global app economy might reach $6.3 trillion from $101 billion. In 2022, according to Statistica, the global app economy has surpassed App Annie's projection. With the extensive growth of the global app ecosystem, the valuation of global apps is likely to break more records in the coming years. If these stats aren't good enough to convince you, then unlock the secret to becoming a millionaire in the mobile app industry by identifying the reasons behind the success.
High Demand: The traction for mobile apps continues to grow as more and more people use smartphones and tablets. It provides lucrative and vast opportunities for app entrepreneurs to meet the diverse needs of users with innovations. Recent data from the Google play store, the biggest mobile app store, reveals that more than 3700 mobile apps get updated daily on this platform. In 2022, the platform witnessed around 114 billion downloads, a staggering number.
Low Barriers To Entry: Low barriers to entry mean you can start your app business with fewer obstacles. It is relatively easy to start a business in this sector with minimal regulations, low start-up costs, and low switching costs. This ease of entry into the market allows a wide range of business models, from small independent developers to large organizations, to thrive.
Opportunity For High Returns: A successful app can generate significant revenue through advertising, in-app purchases, and subscriptions. Data shows that global consumer spending on apps reached $65 billion in the first six months of 2022 from the Apple app store and Google Play combined.
Flexibility & Freedom: Being an app entrepreneur allows you to work independently and flexibly from anywhere.
Constant Innovations: The smart gadget industry is evolving with the latest innovations and trends. It allows app entrepreneurs to stay on the cutting edge of the industry and come up with new, innovative app ideas.
Transform Your Existing Business Vertical: A mobile/web app for your business can help increase customer engagement and retention. In addition, an app can enhance your brand reputation.
App entrepreneurship has the potential for financial success, creativity, and autonomy, making it a rewarding career option for those looking to elevate their professional future.
How To Become A Successful App Entrepreneur?
It's not difficult to be an entrepreneur in the mobile app industry, but becoming a successful mobile app entrepreneur is not as easy as it sounds. App entrepreneurship requires honest efforts, out-of-the-box thinking, critical problem-solving, and an extensive knowledge-building habit. In this segment, We discuss the factors and tips for becoming a successful app entrepreneur.
#1: Discover & Develop A Multi-Billion App Business Idea
So. how to become a successful app entrepreneur? The first step is to develop a unique idea that can generate billions of dollars. To develop a new app idea, you must remember that innovation is the foundation for developing a solution for an unresolved issue.
At this stage, learning from your competitors and their mistakes is critical. You must analyze the apps in the top charts and discover the apps that fail to impress the users. You must identify the reasons behind their failures and take appropriate action not to repeat them.
In short, Developing a triumphant, multi-billion-dollar app business idea requires creativity, market research, and a strong understanding of consumer needs. Developing an app concept is the cornerstone of creating a minimum viable product (MVP) for your app entrepreneurship.
Want to transform your idea into a thriving business? Take a look at these steps to build a winning app business idea.
Conduct a thorough analysis to determine potential audiences' specific needs and grievances.
Keep track of the popular app stores to evaluate the popular app categories and find the category that interests you.
It would be best if you have ideas about what investors are looking for to secure funds as an app entrepreneur.
Stay connected to the tech community by actively engaging and participating in multiple online and offline tech networks. Attending this session can help you stay up-to-date on the latest trends.
#2: Make Your App Business Model Viable
Once you generate multiple ideas, it's time to test the viability of these ideas. Identifying a real-world problem to make your app viable is a crucial step in app development. You must validate your app idea by identifying the key issues that your app will resolve. You should analyze these issues to identify their merits.
Let's look at steps and tricks to validate your idea:
Evaluate the popular apps of your preferred app category:- You must measure the performance of those apps in terms of download rates and reviews. You must also identify the source of their finances and investors.
Conduct A User Survey: Conduct thorough market research to understand consumer behavior and preferences and the competitive landscape. You can ask potential users about their experiences through popular social media groups.
Develop A Unique Business Model: Based on your market research, develop a viable business model and framework that addresses the identified problems.
#3: Sit With Your Engineering Team To Conceptualize The Solution
Once you develop and validate an idea to start your app business, connect with an experienced mobile app development company to convert your idea into a reality. It is one of the crucial tips to becoming a successful app entrepreneur.
Hiring a qualified app development company is the most critical step for building a successful app enterprise. You can use the following techniques to finalize your app development partner
Check out the company's experience in developing apps similar to your category.
Go through the website and digital profile of the company to read client reviews, feedback, and remarks.
If possible, check out the profiles of experienced developers working in the company.
Understand the policies of the company regarding the source data.
Carefully analyze the post-deployment maintenance services of the company.
#4: Optimize Your App's Success With A SMART Goal Strategy
To make your app entrepreneurship successful, you must develop a smart goal for your business. Making your app goal "SMART" involves setting Specific, Measurable, Achievable, Relevant, and Time-bound objectives. Here are some steps you can take to make your app goal SMART:
Be specific: Clearly define what you want to accomplish with your app. What problem is it solving? Who is the target audience?
Make it measurable: Identify key performance indicators (KPIs) that will help you track progress and measure success, such as user engagement, retention, or revenue.
Ensure it is achievable: Conduct market research and ensure the goal is realistic and achievable.
 
Make it relevant: Ensure that your goal aligns with your overall business objectives and is relevant to your target audience.
Fix a deadline: Set a specific time frame for achieving the goal and establish a plan for reaching it.
By following these steps, you can ensure that your app goal is SMART and set yourself up for success.
#5: Build The Success Of Your App By Focusing On 2Ms-Marketing & Monetization
Marketing & monetization are the two critical components that help you get the answers on how to become a successful app entrepreneur. An effective marketing and monetization strategy can help you generate a continuous flow of revenues and users. To market your app business, you can use the following ways.
You can start running an awareness campaign for your app when you have not developed the app yet.
You can launch a paid advertising campaign when your app is launched and deployed.
To promote your app, you may look for the following options.
Create A Website: Many believe that developing a website is not mandatory for an app business. However, having a website can help you launch your app smoothly. Developing a website can help you build a sense of authority and authenticity in the digital arena. It will give your potential users a sense of assurance that you are present across multiple digital platforms.
Social Media Management: Today, you have multiple social media platforms, like Instagram, Twitter, Facebook, LinkedIn, etc., to promote your mobile app. With the help of these social media platforms, you can connect with your target audience by creating groups, pages, and communities. You can use the paid promotion option of these social media platforms to run location-specific advertisements.
Influencer Marketing: You can use influencer marketing to create a 'buzz' about your app and draw quick attention to your product.
Search Advertisement: You may also take the help of Google paid to advertise, popularly known as PPC, to reach millions of active internet users. Running a PPC campaign is an ideal way to promote your app in a shorter time frame.
To monetize your app, you may find the following ways useful.
In-App Purchases: 

Your app must have an in-app purchase feature that allows users to purchase your exclusive and premium offerings. In-app purchases also allow your users to access some special tools or features they are otherwise not allowed to use. These purchases include additional features, subscriptions, and premium content.

In-App Advertising: 

In-app advertising allows you to show ads of other apps or brands and mint money from them. These apps and brands pay you money and help elevate your app business to the next level.

Freemium: 

Unlike the in-app purchases feature, you give your users the option to upgrade the app features here. To get access to your advanced features, the users have to pay. 

Sponsored Content & Features: 

You can use sponsored content of the brand on your app and integrate the content into your existing app content. You can also add sponsored features of a brand in your app to monetize.
#6: Build An App Optimization Strategy
To make your app business successful, you must develop an effective app optimization strategy to rank well on the app stores and search engines. The strategy includes identifying the areas for improvement in your app. This stage is crucial to implement changes and corrective measures to boost your app's performance across devices.
Your app store optimization strategy must ensure the optimum user experience and engagement. Your app optimization strategy should follow the steps mentioned below:
Research, identify, and curate the right set of keywords that will boost the search probability of your app.
Place the keywords properly on the specific locations of your app, such as app title, app icon, app description, app store keyword section, in-app purchases, etc.
Make your app localized by equipping it with a multi-language translator option.
#7: Get Backup For Your Business Idea
Having A backup plan is critical before pitching to investors for your app entrepreneurship. Investors are interested in funding apps that have robust MVPs. The key performance indicators are the foundation to build the MVP of your app.
Popular apps like Facebook, Airbnb, Snapchat, Spotify, etc., have high MVPs and grab the attention of venture capitalists. If your app has a high MVP and is designed and validated to engage a larger audience, you will have no problem getting funds from the investors.
But the question is, how will you find investors for your app? Fortunately, there are multiple platforms where you can find good investors who can invest in your app. In addition, you must develop an effective backup strategy to finance your venture. Networking, online investor communities, and incubators can help you get the resources you need to establish your brand.
#8: Expand Your Business Reach
It is essential to improve your app features to expand your business. You must identify the new market, build a loyal user base, and invest in user acquisition simultaneously. You can enter the new market easily if you have a good MVP.
The final stage of the app development starts by launching your app on popular app stores and continues to grow the users through effective promotional advertisement. To become a successful mobile app entrepreneur, you must experiment and find the right approach for your app business and the target market.
Top App Entrepreneurs Who Become Millionaires With App Ideas

:

People say that truth is stranger than fiction, and this can't be more true for the staggering wealth and success of the world's top app entrepreneurs. Don't believe us? Take a look for yourself at some of the wealthiest individuals in the app industry. Their stories are sure to amaze and inspire you.
Final Words:
Hopefully, our blog helped you get the answer to how to become a successful app entrepreneur. Logic Square Technologies helps entrepreneurs transform their ideas into businesses. We help business owners conceptualize their business ideas to create their app entrepreneurship. We develop high-end functional applications that help business owners reach millions.
Do you want to build a successful app business? Please contact us to know how we can help you.
Author