'And in the end, we were all just humans, drunk on the ideas that love, only love could heal our brokenness.'
 – Christopher Pointdexter You might be wondering why the article takes off on such a poetic note but if you think deeply, it's food for thought. Aren't we all sprinting after finding love in the person whom we fancy about? Yes, we are! We're all in need of love and that too now. Ergo the birth of online dating apps.
But how do you find the right girl or boy online without a medium to support you? Dating Apps assist in doing that for you. They are the only medium to host aspiring daters online, leading them to communicate and then finally, a tryst. Making a dating app like Tinder has revolutionized the dating scenario all over the world. Dating apps have garnered immense public interest since their inception in the early 2000s. One of the primary reasons for such great popularity of dating apps can be attributed to their user-friendly interface. Another important reason is Speed or instant dating among myriad other dating app features. It enables people on the app to 'meet online and date offline' as 
Aisle
 says, that too in a click or a single swipe.
With Speed dating being one of the primary dating app features as mentioned above, let's take a look into what the sundry other features are that make these Dating apps so popular and helping alleviate Tinder-like app development.
Fascinating Features flurrying in traffic: A must for Dating Apps
1. Allowing setting up a rendezvous with interesting people around
Not only should a dating app be interesting to use or make strangers meet through instant dating but they should be interesting as well. When someone is using any dating app, it means he/she is looking forward to meeting interesting people nearby, so rather than just suggesting people, the app can suggest interesting people that best match with their profile. It would be helpful for your users to find a perfect match. To cite an example, 
OkCupid
 suggests you people in your area based on information gathered from your likes and preferences of food, religion, politics etcetera. They are generally pulled together from the questions you've answered while registering yourself with the app which is again a great example of a dating app feature. This way, you know the other person's likes and dislikes are quite similar to yours and hence, conversations initiate.
2. Integrated Chats or Messaging services in the app
Messaging is an absolute necessity when it comes to setting up a date. Apps like 
Tinder
 and 
Bumble
 work on swipes. You should consider swipes if you're nursing a thought of making an app like Tinder. Swipes are one of the most important and user-friendly dating app features now. You like a person while walking through the wide range of members on the app, you swipe right on the profile of the respective person if you like him/her or the opposite if you do not. After you match with the person you like, how do you approach or get approached for a rendezvous? Through communication obviously! And the best way to communicate is through texts rather than calls for the first time with a stranger. Hence, it is very important for a dating app to have an innate texting medium.
3. Providing users with a secured platform to be on
One among the major reasons for the popularity of dating apps is that the app users can completely check each other profile before they hang out. Earlier, people used to be mysteries when it comes to dating. However, dating apps provide a completely 
secured platform
 to users while dating no matter where they are. Dating apps should have the technology to combat fake ids and profiles. They already are in possession of certain techniques that they employ to verify the identity of a user. Security is not only counted among epochal dating app features but also serves as one of the pillars that, if compromised, can completely sabotage the structure of a dating app. Bloggers writing guide blogs on 'How to make dating apps' should surely be giving special mention to security issues so as aspirant creators do not look over this point.
4. Real-time notifications
Do you know that real-time notification can trigger your users to open your application and reply instantly? Notifying the users that something of interest has happened is the most fundamental thing because they never want to miss a single thing when it comes to availing dating app features. To cite an example, the app can notify them if someone viewed their profile, sends a new message, pokes them, etc. Users always want to be in the know about the things that interest them and get an instant notification without the need for a browser refresh.
5. Using In-built mobile phone Geo positioning to find matches for you
Location-based matching is one of the prime dating app features that pulls traffic on these apps. Nowadays, dating apps use in-built mobile phone GPS to get you to meet people online who are mostly residing in or around the area you bide in. Statistics show that daters living close to each other are generally successful in maintaining a long-term relationship. They last longer than distant ones.
6. Well-organized search filters
Searches can get specific on dating apps than ever before. There can be a lot of people, who might want to search for any particular person on your dating app. Right? Why not provide them with search functionality? You can include a well-organized search feature in your application and allow users to search for right matches by interest, location, friendliness, photos, etc. A fine example is 
Badoo
 that makes use of facial recognition technology to help its users find a match, who looks like anyone at all, including celebs, their ex or anyone. To add to it, Badoo has recently released a new app version by adding live video chat feature for its app users. Using this chat feature, users will be able to chat face-to-face with their matches. It will be helpful to those people who would like to chat before deciding to go on a date. Video chatting is also sneaking in slowly as an attractive dating app feature.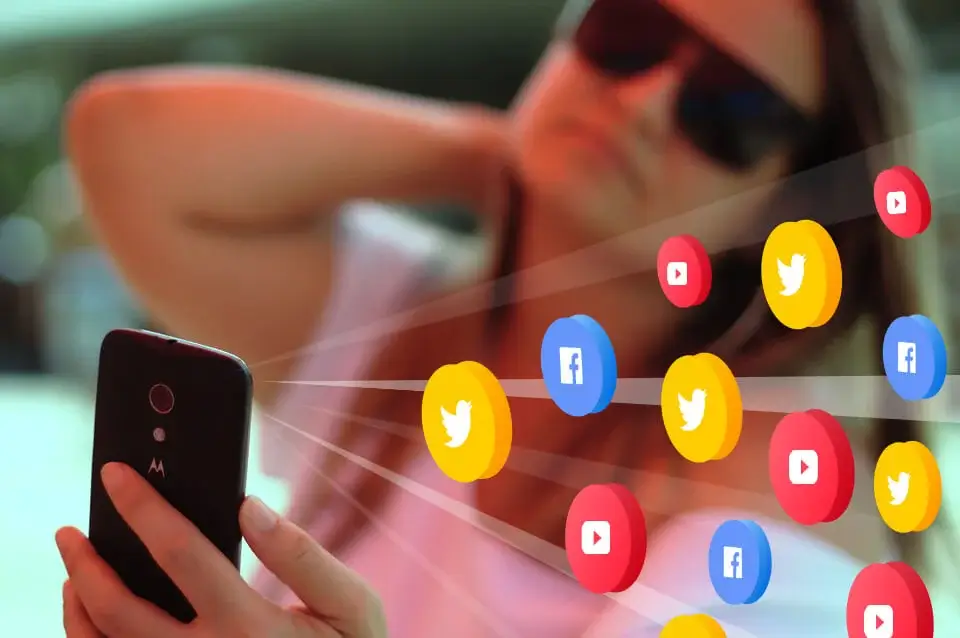 Having thrown light upon some of the most appealing yet compulsory dating app features, it's time to get our readers acquainted with some of the technologies employed to make a dating app. So, let's get to it without wasting any more time.
A brief idea of how the technology works for a Dating App: How to make a Dating app?
For any app to run smoothly, the technology backing it should be modern and efficient enough along with essential dating app features. Companies developing apps should learn to understand that an app's performance is it's the best asset and that is also what they should thrive to achieve while building one. The interface for a dating app might be a tad different from that of other apps but the programming and algorithms are almost the same on ground level.
Technology Stack
 for a dating app like 
Tinder
 includes JavaScript, HTML5, and Python as programming languages and 
AWS
 platform for building and testing apps. But the most important step in the technological process is developing 
matching algorithms
. Let's get a deeper understanding of what technologies are used to develop a Dating app.
1. Location Cognizance
It has been discussed in the features above that how epochal a role location plays when it comes to building and developing a dating app. People matched closer to each other in terms of their geographical location are seen to be getting into a relationship that has much more longevity. This is why Dating Apps use the inbuilt GPS in your mobile phones for 
Geo-positioning
 to present you with options from your area, within a certain distance. 
NoSQL
 and 
MongoDB
 are among the best platforms to use as scalable database environments.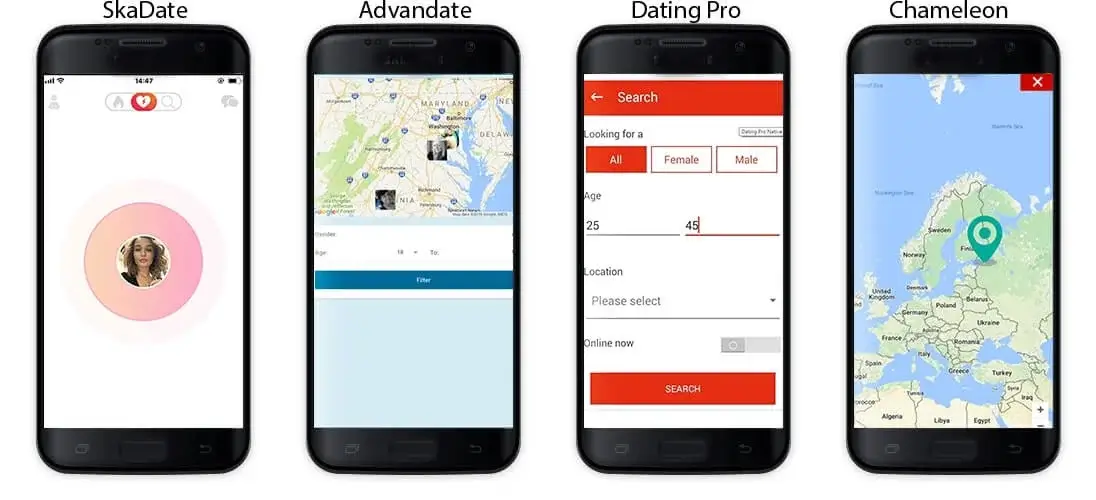 2. Matchmaking based on behaviour
Creating a dating app such as Tinder using Algorithms for behaviour-based matching is more complicated than mathematical and location-based ones. It is because they operate with data gathered from outside sources like profiles on other social media platforms like 
twitter
 and 
Instagram
, music playlists and so on. Generating and analyzing large datasets require significant resources. It's where a 
Big Data analytics approach
 helps to increase chances of the right match.
3. Matchmaking or 'math-making'?
Dating apps normally use calculative or mathematical algorithms by finding similarities in answers given to a suggested questionnaire. Such algorithms are mostly based on the compatibility percentage of answers given for each question separately or all questions collectively. Apps like 
OKCupid
 determine the compatibility rate in a more complex way taking into account not only your answers but also how you would like someone else to answer and how important a question is for you.
4. Getting people matched using Advanced technology
Making a Dating app like Tinder often require technological advances to improve the user experience and ensure more accurate matching. Sundry technologies like machine learning technology, Artificial intelligence, VR and AR influence the character of a dating app. As dating apps are coming up with so many features now, it can be said that facial recognition, GPS, and biological data supported by AI are going to boost matching algorithms and connect people in entirely new ways in the near future. After having discussed a few important dating app features, it's time we provided you with some idea about what are the costs to be incurred for making a dating app like Tinder.
Costs to be incurred in building a dating app
Developing a dating app is, if not too expensive, definitely not cheap. Costs are generally incurred to build dating app features by implying newer technological advancements. And if you are too keen to make an app like tinder, as in, the one having a similar structure as of Tinder, the costs will augment impressively. Even developing a basic app will also consume over 1200 hours.
Let's take a look at how the structure works
App development
 (Android) Time Consumed: 1,200 hours Cost Incurred: $45,000
App Development
 (iOS) Time Consumed: 1,200 hours The cost incurred: $40,000
Backend Development
 Time Consumed: Above 250 hours The cost incurred: $8,000
App designing
 Time Consumed: Near 100 hours Cost Incurred: $6,000 and $8,000 for Android and iOS respectively.
App Testing
 Time Consumed: Near to 150 hours Cost Incurred: $4,000 and $5,000 for iOS and Android respectively. Now, when you calculate the overall charge of developing a native app it will cost around $68,000 for iOS and Android, it is $70,000. Now if we wrap the cost: A basic dating app with simple feature will cost around $45,000 An app for both iOS and Android platform with tinder based features can cost around $1,25,000. Now, it's time to look for a good technological partner for developing your dating app.
Finding a good technological collaborator for your dating app
Developing a Dating app requires you to trot through many steps. Not to shadow the obviousness of it, the technological step plays an epochal role if you want to make an app like Tinder work as good as the former. Coding acts as the pivotal point around which the base and functioning of the app depends. Hence, it is very important that you choose a technological partner not only just out of the blue but, judiciously. If you're ready with an idea already, you're definitely at the right desk. We, at 
Logic Square Technologies
, are a pool of dedicated tech buffs waiting to work with you. All you need to do is board the train with us and we'll reach the destination together.
Author