Logic Square - Shaping the Future of Mobile App Development In USA
Our Mobile App Development Services In The USA Offer Comprehensive Solutions 100+ Team Members
98% Success Rate
200+ Projects Delivered
10+ Years of Experience
Our Mobile App Development Solutions Help Startups Make Big Gains
Agile App/Product Development
End-To-End App Lifecycle Management
Seamless Cross-Platform Compatibility
In the realm of mobile app development for startups, challenges are common, but we master the art of conquering them.
The Finest Mobile App Developers in USA, Which Can Turn Your Idea Into A Reality
iOS App Development
At our premium iOS App Development Company in California, we specialize in custom iOS app development solution in USA, to creating exceptional applications that cater to a diverse range of Apple devices. Whether you need an app for iPhone, iPad, Apple Watch, or Apple TV, our team of expert iOS developers has the skills and expertise to bring your vision to life.

Android App Development
We are one of the finest Android App Development Company in California. Our Android app developers leverage the latest Custom Android App Solutions in USA, to create customized apps that align perfectly with your brand and deliver exceptional user experiences. Our Android app development process includes comprehensive testing and optimization to ensure compatibility across various devices and allow us to seamlessly integrate your app with various functionalities.

Cross-platform App Development
Logic Square Technologies is accomplished in providing the top-notch Cross-Platform App Development Services in California. Our skilled developers and designers are proficient to offer the best Cross-Platform App Frameworks Services in USA. Our frameworks such as React Native, Xamarin, or Flutter to build feature-rich, interactive, and visually appealing cross-platform applications. Our cross-platform app development expertise will help you build cost-effective solutions that reach a wider audience and maintain a consistent user experience across different platforms.
Hybrid App Development
If you want to get the best Hybrid App Development Solutions in California then Logic Square Technologies is the best choice for it. We are providing the top-notch Hybrid App Development Services USA and using the latest frameworks like Ionic, Cordova, or PhoneGap, we harness the power of web technologies such as HTML5, CSS, and JavaScript to build hybrid apps that function like native applications. With extensive knowledge and experience, we offer cutting-edge hybrid applications optimized for performance, responsiveness, and compatibility across various devices and operating systems.
MVP Development
Logic Square Technologies is one of the topmost MVP Development Company California. We specialize in delivering lean Minimum Viable Products (MVPs) that enable our clients to quickly validate their ideas, gather user feedback, and accelerate product development. We are proficient in MVP App Development USA and our expert MVP developers can help you create a functional and compelling version of your product equipped with user-centric designs that showcase its core features and value proposition.
AI App Development
We stand out as a premier AI App Development Company in California. Our AI app development offering combines cutting-edge artificial intelligence technologies with our technical expertise to create intelligent and innovative applications that revolutionize businesses. Our proficient service of AI Mobile App Development USA that is leveraging machine learning, natural language processing, computer vision, and other AI techniques, we develop apps that can analyze data, make predictions, automate the workflow, automate tasks, and provide personalized experiences.
AR/VR App Development
Logic Square Technologies is one of the best Augmented Reality Software Development Company in California. Our expertise in AR/VR and mobile app development enables us to create applications that seamlessly integrate virtual elements into the real world or transport users to entirely virtual environments, whether it's building AR experiences that overlay digital information onto the physical world or crafting Virtual Reality App Development Services in California to simulations that provide immersive 3D environments, tailored to your specific needs.
Wearable App Development
Logic Square Technologies specializes in developing apps specifically designed for wearable devices, such as smartwatches, fitness trackers, and augmented reality glasses. Our expertise in wearables app development enables us to create seamless and intuitive experiences that leverage the unique capabilities of these devices. We craft applications that deliver convenience, personalization, and enhanced functionality for wearable users.
IoT App Development
With a deep understanding of the Internet of Things (IoT) landscape and its evolving technologies, our team provides the Best IoT App Development Services in California and stays updated with the latest industry advancements to develop cutting-edge IoT applications. Whether it's connecting smart home devices, industrial sensors, or wearable devices, we seamlessly integrate them to enable data collection, analysis, and control through the IoT app.
Flutter App Development
Logic Square Technologies is one of the topmost Flutter App Development Company in USA. Flutter's unique "write once, run anywhere" approach enables us to build apps with native-like performance. We leverage the power of the Flutter engine and Dart programming language to deliver exceptional app experiences. With its Just-in-Time (JIT) compilation during development and Ahead-of-Time (AOT) compilation for production, we ensure fast startup times and smooth runtime performance.

React Native App Development
Our React Native app development services cater to your full-cycle development needs, providing end-to-end solutions that leverage the power of this versatile framework. With React Native, we can build robust, high-performance apps that run seamlessly on iOS and Android platforms, saving time and costs without compromising quality. We deliver scalable solutions with React native apps.

PWA App Development
Get the finest PWA Development Solutions in USA from Logic Square Technologies. We excel in delivering next-generation Progressive Web App (PWA) development solutions that cater to businesses across various sectors, driving conversation and engagement with their target audience. Our team emphasizes responsive design principles, ensuring that your PWA dynamically adjusts to fit any screen size or orientation to ensure a consistent and engaging user experience across devices.
Tech Consultation
Logic Square Technologies is one of best Tech Consultation Services in California USA. Experience the power of Tech Consultation with our exceptional mobile app development services in the USA. Our team of skilled tech professionals is dedicated to providing proper guidance and insights throughout the development journey. We help you make informed decisions, stay updated with the latest tech practices, and recommend the best action.
App Redesign
We are offering the top-notch App Redesign Services. Our mobile app developers in the USA can help you redesign your existing app by improving its look and feel. We thoroughly evaluate and examine the current design of your app and identify areas for improvement and performance enhancement. Our developers deeply study the existing user experience status and develop effective solutions to improve your final product.
AI-Powered Mobile App Development Company In USA
We implement AI-powered predictive analytics to analyze historical data and identify our mobile applications' patterns, trends, and potential opportunities. Our AI-powered apps empower businesses to make data-driven decisions, optimize strategies, and prepare for eventualities.
ur mobile app development integrates AI-powered virtual assistants that offer seamless and natural language interactions with users. These intelligent assistants can perform various tasks, answer queries, provide recommendations, and execute actions, delivering enhanced user experiences and improving app usability.
We excel in seamlessly integrating AI capabilities into non-AI apps, amplifying their functionality, efficiency, and user experience. With our deep expertise in AI app development and integration, we enable businesses to unlock the full potential of AI technologies, propelling their non-AI apps to new heights of performance and innovation.
We offer comprehensive AI consulting and strategic insights to help businesses harness the full potential of artificial intelligence. Our expert AI consultants work closely with clients to understand their unique business needs and objectives, providing tailored solutions that drive digital transformation and sustainable growth. With our AI consulting and strategic insights, we guide businesses on the transformative journey to AI-driven success, ensuring sustainable growth.
At Logic Square Technologies, we specialize in customized AI-based mobile app development, leveraging advanced technologies such as Natural Language Processing (NLP), Natural Language Understanding (NLU), Machine Learning (ML), and other AI components to craft tailored solutions that meet specific business requirements and user needs. By harnessing the full potential of NLP, NLU, ML, and other AI components, we create intelligent mobile app solutions to meet specific business needs.
At Logic Square Technologies, we specialize in AIoT-based app development, where Artificial Intelligence (AI) and the Internet of Things (IoT) converge to create powerful, intelligent, and connected applications. Our expertise lies in harnessing the synergy of AI and IoT technologies to develop innovative solutions that empower businesses and individuals alike.
Advanced Programming Languages & Tools We Use To Make Your Apps Stand Out
We Follow A Diligent & Cognizant Workflow To Serve All Industries
Discovery & Idation: We begin by thoroughly understanding your requirements, business goals, and target audience. Our team conducts in-depth research and brainstorming sessions to ideate and conceptualize the best solutions for your mobile app.
Requirement Gathering: During this phase, We employ a comprehensive approach to thoroughly understand your needs, objectives, and goals for the app. Our team engages in in-depth discussions, workshops, and interviews to gather detailed requirements, paying attention to functional and non-functional aspects.
Design & Wireframing: Next, our talented design team creates wireframes and prototypes to visualize the app's user interface (UI) and user experience (UX). We focus on creating intuitive and visually appealing designs that align with your brand identity. Through interactive prototypes, we gather feedback and refine the design until we achieve the desired look and feel.
Development & Coding: Once the design is finalized, our skilled developers leverage their expertise in mobile app development to bring the concept to life. We follow industry best practices and utilize the latest technologies and frameworks to build robust and scalable mobile apps.
Testing & Quality Assurance: Our dedicated quality assurance team thoroughly tests different devices, screen sizes, and operating systems. We perform functional, usability, performance, and security testing to ensure that your app is bug-free, responsive, and delivers an exceptional user experience.
Deployment & Launch: Once your app successfully passes the testing phase, we assist in deploying the app to the respective app stores or distribution platforms. We ensure that the app adheres to the guidelines and requirements of each platform, optimizing its visibility and reach by taking care of the entire approval & submission process.
Post-Launch Support & Maintenance: Our commitment to your app's success extends beyond its launch. We offer comprehensive post-launch support and maintenance services to ensure your app remains up-to-date, secure, and optimized. We monitor performance, address issues or bugs, and implement updates or feature enhancements, ensuring your app stays competitive.
Leading the Way: Recent Recognition Highlights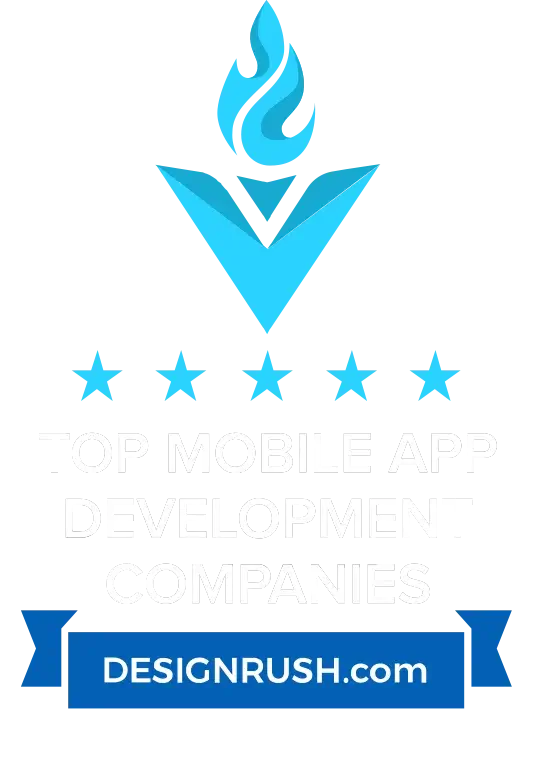 Top Mobile App Development Companies in the USA
We are thrilled to announce that Logic Square is featured as the USA's top mobile app development company of 2023 by DesignRush.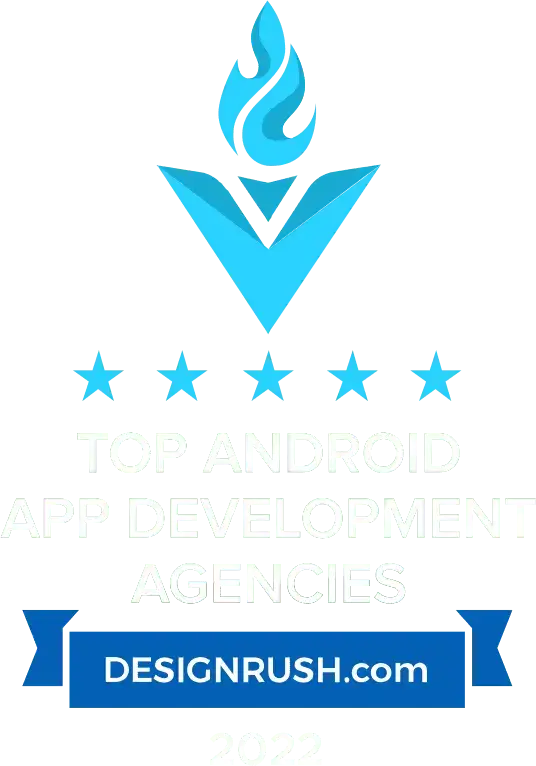 Top App Developers
We are featured among the Top 30 Android Apps Development Companies By DesignRush.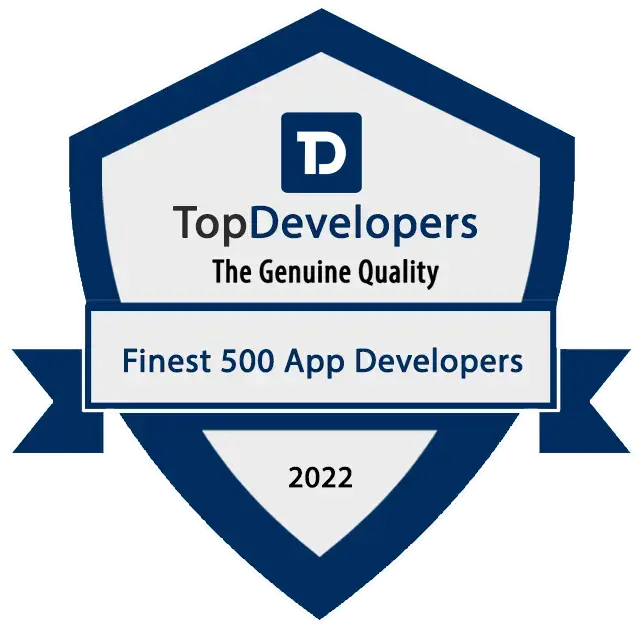 Finest Mobile App Developers
Logic Square Technologies is featured as one of the finest mobile app developers by TopDevelopers.Co of November 2022.
Top Indian developers
Logic Square Technologies was featured as one of the top Indian developers by Clutch in 2019.
Top App Development Companies In India
Logic Square Technologies is featured among the top app developer companies in India by Clutch. Proud to announce that we are selected among the top Indian app developers and that too based on the reviews given by our esteemed clients.
We have earned the reputation of being one of the finest mobile app developers.